MOTAMO
is a powerful word search utility designed for
Scrabble
,
Wordox
or
other word games.
If you play Scrabble on your computer, and your competitors don't object to an "open-computer-tool" policy, you'll enjoy this software. Please do not use it to cheat.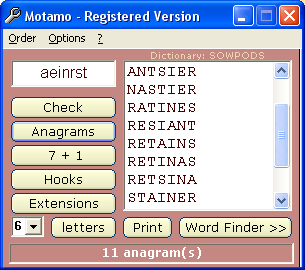 Find
anagrams, extensions, prefixes, suffixes
, all possible
bonus
(that score 50 bonus points for using all seven tiles) ...perform advanced searches and unscramble any set of letters.
Motamo also has a word checker that can be used to quickly validate any word.
Compact, simple, and extremely effective.
A MUST-HAVE for all players Scrabble, Wordox and other online word games